On a recent JobStreet.com survey conducted last November, employers expressed their dissatisfaction towards fresh graduate standards. A significant 70% of respondents said that the standards of fresh graduates were just average. The poor ratings were not generally linked to their academic qualifications, but rather their poor attitude and communication skills shown during interviews or at work.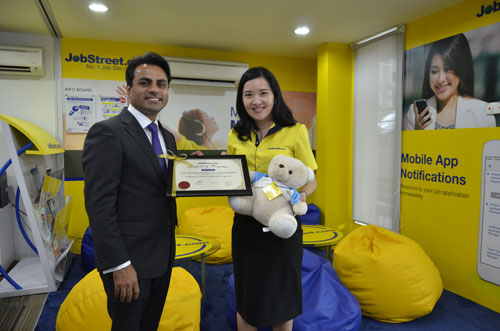 (From left) : Sharma – CEO of INTI International University & Colleges receiving token of recognition from Chook – Country Manager of JobStreet.com
JobStreet.com has taken the opportunity to launch its first Graduate Employability Program in collaboration with INTI International University & Colleges (INTI) to tackle this issue and raise standards of fresh graduates.
The program consists of four segments – a Career Corner, student ambassadors, career services and an executive review. The Career Corner functions as a one-stop centre for students to prepare themselves for their first job while JobStreet.com student ambassadors and career services counsellors will be available to support and guide students to better prepare themselves.
The career corner was officially launched in INTI International College Subang campus by Ms Chook Yuh Yng, Country Manager of JobStreet.com and Rohit Sharma, CEO of INTI International University & Colleges.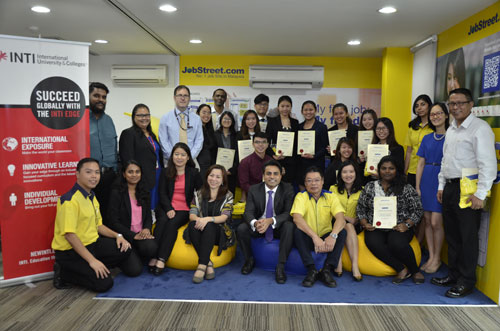 Sharma – CEO of INTI International University & Colleges (front row, 5th from left), Chook – Country Manager of JobStreet.com (front row, 7th from left) with the newly certified career services & students of INTI
Ms Chook congratulated INTI for its effort in empowering students to build bridges for their future careers and as well as preparing them to enter the workforce. "JobStreet.com is proud to have INTI as its partner to set up a Career Corner, making it easier and more accessible for students to get assistance on their first job," she adds.
"INTI is pleased to partner with JobStreet.com in preparing our students for their future careers. The counselling skills received by our Career Services team and student ambassadors will enable them to better work with our students be it through the preparation of resumes, mock interviews and providing feedback on any areas of improvement."
"Through such partnerships and the inclusion of practical learning experiences into our curriculum INTI has recorded incredible student outcomes, including: 98% of INTI students securing jobs within six months of their graduation, while 25% have received job offers even before they graduate. 82% of INTI graduates are also paid higher than the market average, testifying to the quality and skills they bring to the workplace right from the start of their careers." shared Sharma.