Contributing back to society is an act that is instilled in every INTI student and a rich tradition that has been carried out by them for many years. This year, students from INTI International College Subang's School of Business (SOBIZ) have decided to work with the World Wildlife Fund (WWF) to promote the Save Our Seafood (S.O.S) Project, which is a campaign that promotes awareness of sustainable seafood.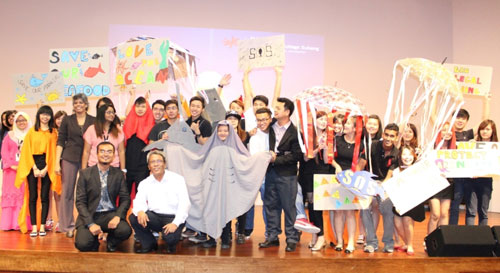 INTI students and staff pledge their support for sustainable seafood.
Through SOBIZ Pulse – an initiative that encourages SOBIZ students to be actively involved in social work – the students have come together to organise various activities to raise funds and awareness for the S.O.S Project, which included 'Live Green Pledge' – a collection of over 2200 pledges to protect the environment, a recycling competition and an entertaining flash mob.
"The Food and Agriculture Organisation reports that 66% of the oceans' commercially targeted marine fish stocks are either fully or heavily exploited, over exploited or depleted. This is an alarming figure, yet not many are aware of this worldwide predicament. Our students felt that this is an issue that really needs to be addressed, as it will determine whether tomorrow's generations will be able to continue to enjoy the ocean's riches," said Sotheeswari Somasundram, Dean of Business at INTI International College Subang.?
"Our appetite for fish is fast surpassing our oceans' ecological and productive limits. Overfishing is caused by gross mismanagement of our marine resources that has affected almost all corners of the globe, including Malaysia," said Yeap Chong Wei, General Manager of the Marketing Department of WWF-Malaysia.
"We would like to thank INTI for collaborating with us, by building awareness on the importance of sustainable seafood as well as raising funds for our conservation efforts. We are extremely heartened by the efforts of the students, because it is for the younger generation that WWF-Malaysia works hard to build a future in which humans live in harmony with nature. We need to take steps towards achieving sustainable consumption and business practices today, if we wish to continue to enjoy our natural resources in future," added Yeap.
Now into its second year, the SOBIZ Social Enterprise Unit was launched to encourage INTI International College Subang students to be actively involved in social work and it has seen close to RM 68,000 raised over the past years to support multiple charities that included Teach for Malaysia, United Voice, Persatuan Kanak-Kanak Istimewa Kajang, Orkids Malaysia and Water & Toilet.
"INTI students are very keen to contribute to society and through SOBIZ Pulse they are able channel their desire to provide support to the causes that they believe in. We fully support them in initiatives such as this, because it is all part of their personal development, as we are not only focused on developing them to succeed academically, but also to become responsible members of the community," Sotheeswari added.