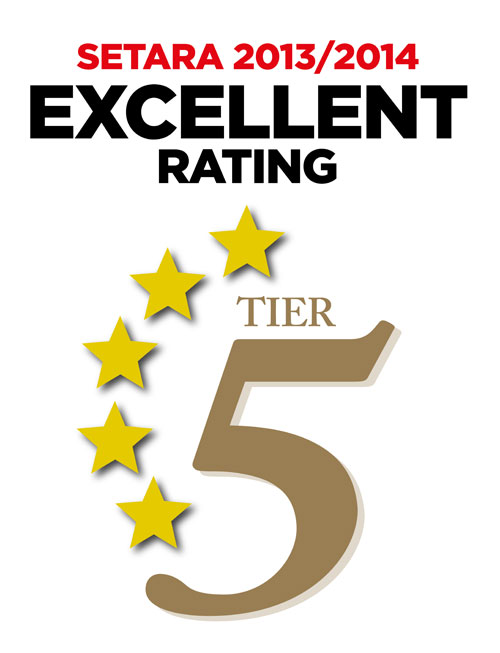 INTI International University (INTI IU) has been awarded 5 stars in SETARA 2013/2014, an MQA (Malaysian Qualifications Agency)'s rating system which measures the quality of teaching and learning in university colleges and universities in Malaysia.
INTI IU's position in Tier 5 or "Excellent" category is a milestone achievement that demonstrates its mission to champion change by reinventing education to build dynamic leaders for the future.
"This achievement reflects INTI IU's efforts in fostering positive graduate outcomes. Emphasis is placed on the development of 21st century skills encompassing the 4 C's: critical thinking, communication, collaboration and creativity – among all our students to prepare them for the future global workforce," said Professor Dato' Dr. Rahmah Mohamed, Vice Chancellor of INTI International University.
INTI IU leverages on new technologies to create a learning environment where students are encouraged to share, innovate and collaborate virtually. Gamification, which incorporates the mechanics of a game into students' assignments, allows INTI IU's students to improve analytical thinking, team building, collaboration, multi-tasking and problem-solving skills and receive immediate feedback on their performance.
Traditional face-to-face classroom teaching is supported with innovative online tools and activities such as Blackboard, a learning management system that allows INTI IU's students to have online access to their course materials, lecture notes, assignments and tutorials. This Blended-Learning approach emphasises on collaborative work outside of the classroom and keeps lessons fun and interactive. It also helps students to develop their soft skills and teaches them to be self-reliant, problem solve, work in teams and ultimately, contribute to life-long learning.
The "Flipped Classroom" is also a feature of INTI IU, whereby students learn concepts at home and then come to class for deeper, more action-oriented learning and develop their problem solving skills. With this approach, they can provide their own opinions, generate discussions, collaborate or interact with one another in hands-on activities.
INTI IU offers internationally-recognised and career-focused programmes in collaboration with leading industry and academic partners to meet the needs of today's employers and graduates. It also collaborates with regional partners to promote international exposure, learning and goodwill. Over a hundred CEOs from Vietnam, including an entourage from Hanoi Manpower Planning Unit and National Economics University (NEU) – Business School, visited INTI IU recently for the opportunity to learn about the Malaysian economy, culture and tertiary education system, and to explore collaborative prospects.
INTI IU has also initiated community inclusion programmes for students, staff and academics. These include bringing the Orang Asli community to INTI IU by offering them English programmes, and a STEM (Science, Technology, Engineering and Mathematics) Awareness & Career Pathway programme to broaden the minds of Orang Asli children and expose them to the education opportunities available. By initiating such efforts, INTI IU is aligned with Malaysia's National Education Blueprint in instilling STEM awareness to students as a whole.
An 82-acre campus university in Putra Nilai, Negeri Sembilan with international students and faculty members from over 60 countries, INTI International University promotes not only intellectual growth through quality education, but also the opportunity for students to build lifelong friendships through various social, sporting and cultural activities. It has invested in the Student Station, a one-stop student centre that offers centralised services to help students with their non-academic needs. Students can obtain different types of services such as make their payments for tuition and accommodation as well as enquire about scholarships and PTPTN and university placement and study abroad matters here.
The university offers many other facilities and amenities – ranging from a multimedia Learning Resource Centre to an Olympic-size swimming pool – that students need as they immerse themselves in their education while gaining invaluable cross-cultural experience.