When higher education switched to online learning in March last year due to the coronavirus pandemic, educators, researchers and students gained the opportunity to experiment with new teaching and learning techniques and got to see the results in real time. One major challenge higher education faced was nurturing a sense of community while tasks were being done remotely.
As a pioneer in online teaching and learning, converting most academic conferences, seminars, talks, and symposiums online were a breeze to INTI International University. According to Dr Joseph Lee, Vice Chancellor of INTI International University, Nilai, resilience played a huge role.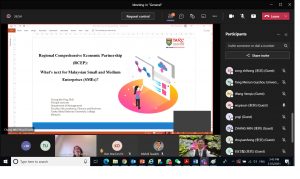 Researchers discus what is next for Malaysia's small and medium enterprises (SMEs) during an online symposium titled 'The Potential Impacts of Regional Comprehensive Economic Partnership (RCEP) on the Asia-Pacific Region'.
"Resilience does not always equate with a feeling of euphoria, but rather learning how to persevere and succeed regardless of any situation. The year 2020 provided an extremely concrete example of resilience with the societal adaptations required from the COVID-19 pandemic. However, adaptability and resilience are skills that all people need in order to thrive as successful adults," shared Dr Joseph.
Curated since 2019, online symposiums are a norm to the institution and understanding the value it brings, INTI International University has turned it up a notch by organizing 14 online symposiums so far this year.
These online symposiums are held to provide a platform for experts and researchers from local and international educational institutions to share their latest research initiatives. They also serve as an avenue for academics to explore the latest research agenda and identify potential areas for further collaborations with established academicians.
Dr Joseph further added, "INTI International University is capitalizing on the advancement of technology to connect researchers from all over the world through these online symposiums organized by different faculties. Although travelling is currently restricted, learning and knowledge sharing will be a continuous journey. We are working hard to foster a knowledge network through a series of online symposiums."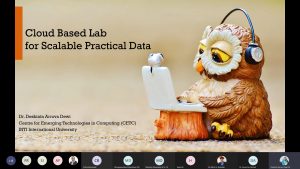 Cloud Based Lab for Scalable Practical Data was one of the topics shared during the online symposium on cloud computing organized by INTI International University.
INTI International University's online research symposiums have featured renowned speakers in various fields of study from established local and international institutions. They include Dr. Donnie Adams from University Malaya, Professor Dr. Faizah Abd Majid from Universiti Teknologi MARA (UiTM), Professor Dr. Wang Xiu Feng from Guizhou University, China and Professor Dr. Kirsten Spann from Queensland University of Technology, Australia, to name a few.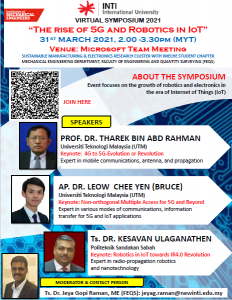 A virtual poster of 'The Rise of 5G and Robotics in IoT' online symposium presented by speakers from established local universities.
Some of the recent online research symposiums organised by INTI International University include 'The Potential Impacts of Regional Comprehensive Economic Partnership (RCEP) on the Asia-Pacific Region' and 'Cloud Computing'.
'The Potential Impacts of Regional Comprehensive Economic Partnership (RCEP) on the Asia-Pacific Region' symposium discussed the world's largest regional trade agreement, which was signed during an online ceremony on 15 November 2020.
Speakers from China and Malaysia sat down together to discuss the impacts of the major regional free trade agreement that posed challenges to the United States (US). The partnership was seen as able to displace some US exports to the region which in return impacts the forefront of businesses in ASEAN countries.
The symposium also reviewed Malaysia's access to a wider RCEP market presenting significant trading and investment opportunities. With market barriers lowered and rules of origins streamlined, it is expected that investments from more developed countries in the RCEP region and beyond will increase for less developed countries, including Malaysia. While this should boost Malaysia's economy, it also meant the country will have to work harder to get those investments, especially when other lower-cost destinations such as Vietnam and Indonesia would be eyeing the same investments.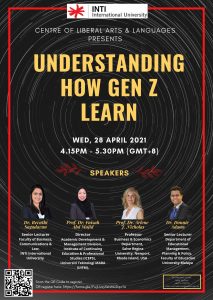 INTI International University's Centre of Liberal Arts & Languages presented an online symposium titled 'Understanding How Gen Z Learn' last April.
Meanwhile, another collaborative online symposium on cloud computing gathered researchers who discussed the nuances of it. Among the key areas covered was cloud based lab for scalable practical data. Scalability is a key feature for big data analysis and machine learning frameworks as well as for applications that need to analyze very large and real-time data available from data repositories, social media, sensor networks, smartphones, and the web.
INTI International University has brought local and international researchers from different cultural backgrounds and diverse fields to exchange their professional perceptions to enrich the knowledge of the participants attending the symposiums, giving them a broader understanding of significant and pressing global issues.
Open to participants from around the world, INTI International University plans to hold at least three online symposiums a month this year.
"Moving forward, our symposiums will continue to experiment with online formats, both to help them respond to events like the pandemic and to make them more sustainable. I can affirm that our students and academicians have taken advantage of the international perspectives offered by speakers on topics that they have been studying and teaching," Dr Joseph said confidently.
For more information on the symposiums lined up for 2021, visit https://iusymposium.newinti.edu.my/.