It was a proud moment for INTI International University when two of its academics were awarded at the Private Education Excellence Awards 2022, an annual event organized by the Private Education Cooperative of Malaysia (EduCoop).
Associate Professor Dr. Geetha Subramaniam received the 'National Outstanding Educator Award' under the University category whereas Ir. Professor Dr. Leong Wai Yie was honoured with the 'Special Recognition – National Unity Award' also under the University category at a ceremony held on 24 November at M Resort & Hotel, Kuala Lumpur. Lau Wai Cheng, Deputy President of National Associations of Private Educational Institutions (NAPEI), was the guest of honour at the event.
Held for the seventh time, the award ceremony recognizes outstanding private educators from private institutions in Malaysia under the categories of teaching, science, arts and design, engineering, research and innovation, and humanities. A total of 210 applicants applied for the eight awards lined up.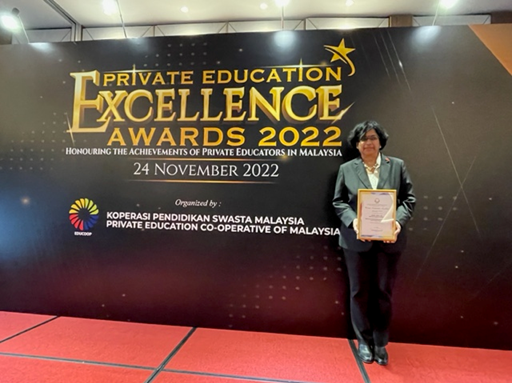 Associate Professor Dr. Geetha Subramaniam received the 'National Outstanding Educator Award' under the University category at the Private Education Excellence Awards 2022 held at M Resort & Hotel, Kuala Lumpur.
The primary objective of EduCoop is to provide services to its members, thus, enabling them to attain increased income and savings, investments, productivity, and purchasing power and promote among them equitable distribution of net surplus through maximum utilization of economies of scale, cost-sharing with minimum risk. Through this co-operative, it is envisaged that everyone in the private education industry will unite and grow to be an influential voice and force of the nation[1].
Dr. Geetha, who is currently Dean of the Faculty of Health and Life Sciences, graduated from University Malaya with a Doctorate in Molecular Virology.
"I have always been enthusiastic about teaching and this award is a testimony towards it. My eight years at INTI International University has seen me bringing industry knowledge to the classroom. I also incorporate the six years of experience I've accumulated in a diagnostic laboratory to provide my students with real life scenarios to better connect theories and knowledge learned in the classroom to real-world situations," shared the former ISO 45001:2018 lead auditor and internal auditor for ISO 9001:2015 at the University.
Besides sharing her experiences at the diagnostic laboratory, Dr. Geetha has organized numerous Quality Assurance (QA) workshops to impart to students the skills she learnt during audits. These have successfully inspired several graduates to embark on careers as QA officers in established organizations throughout Malaysia.
Dr. Geetha's interest in research has driven her to instill a similar liking among her students.
"Today, I supervise several final year projects conducted by my students – some have been published in SCOPUS-cited journals. When the quality of my students' work is recognized, it motivates me to do more as I know hard work and dedication does not disappoint," she said.
Meanwhile, Dr. Geetha attributes her success as an educator to her students.
"The experience and connection with my students, not just as a dean but also a lecturer, has given me an added advantage compared to other candidates. This award is a morale booster and further motivates me to continue to be a proactive and engaged educator. I strongly believe that only with strong engagement with students will I be able to deliver lectures more effectively.
"This recognition will continue to encourage me in my community engagement, especially in promoting STEM and education to different communities. I must say that this is an incredible milestone in my journey as an educator as this award recognizes and honours academics who have demonstrated outstanding achievements and leadership in teaching throughout the years," she added.
Meanwhile, Prof Leong expressed how humbled she was to have been selected as recipient of the 'Special Recognition – National Unity Award' and that it would motivate her to continue giving the highest level of dedication as an educator.
"Education is a necessity for the development and progress of any nation. Without a solid education sector, other industries will struggle with the lack of quality knowledge capital and human resources," she said.
According to Prof Leong, while private education may appear to be a lucrative business, its cost today is especially high as funding depends on student enrolments and monies generated by highly qualified and skilled academics through competitive research grants and consultancy projects.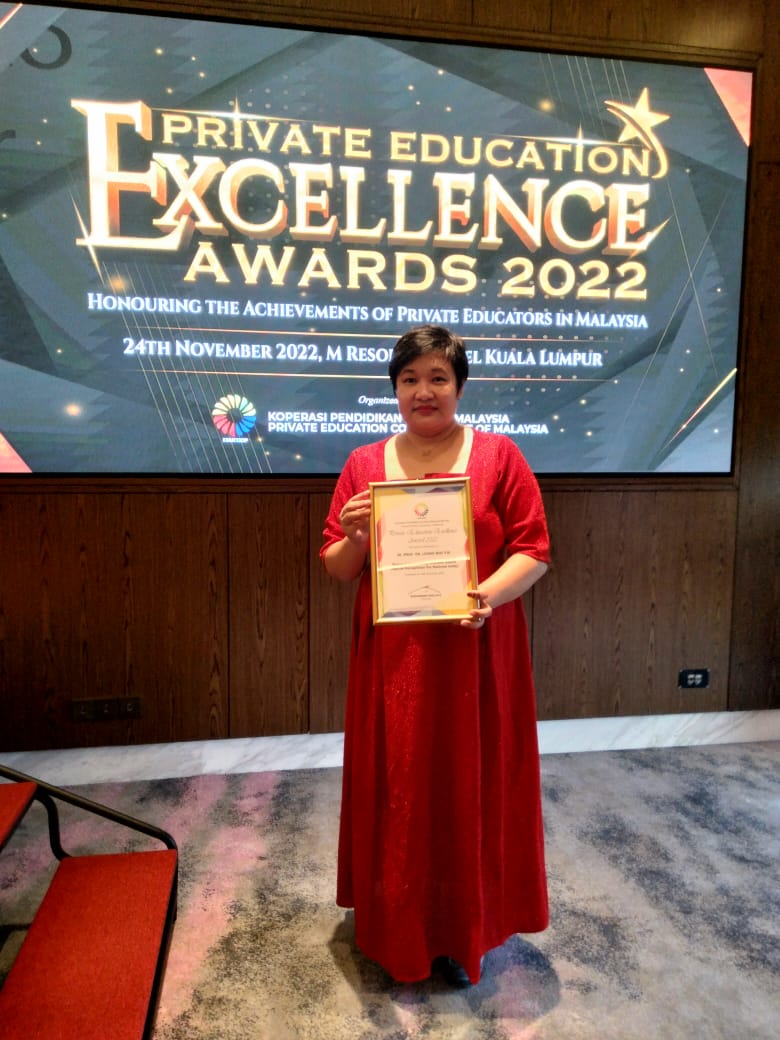 The Private Education Excellence Awards 2022 honoured Ir. Professor Dr. Leong Wai Yie with the 'Special Recognition – National Unity Award' under the University category.
"In addition, private higher education institutions today provide more than half of tertiary and post-tertiary education in the country, saving the government billions in educational expenditure. These noteworthy contributions highlight the importance of private education in delivering the educational needs not only for the young and locals, but also the matured and international," she remarked.
Advising private education institutions not to rest on their laurels, Prof Leong emphasised on the need for continuous improvement to remain at the forefront of development.
"Private education institutions must continue investing in their academics and professional staff, strengthen their reputation in world rankings, and more importantly, ensure that they are always delivering graduates and research findings that will empower companies with the knowledge capital and skillsets necessary to succeed in future marketplaces," enthused Prof Leong.
Prof Leong has also been actively practicing an outcomes-based education approach with a large degree of freedom to select engineering content and methods to help students achieve defined outcomes. Moreover, she has been appointed as the Engineering Accreditation Panel and Chair for more than 20 Malaysian universities, in upholding the highest quality of engineering education besides ensuring continuous improvement of their respective standards.
As part of the International Accreditation Panel that assesses university programmes in the United Kingdom, Prof Leong is passionate about promoting equity, diversity, and inclusion (EDI) in engineering. She is currently the Vice President of the Institution of Engineers, Malaysia (IEM) 2020/2022, Vice President of the International Network of Women Engineers and Scientists (INWES) and is the first Asia Pacific Gender Equality Committee Chairman.