Students from INTI International Collge Penang's (IICP) New South Wales Higher School Certificate (NSW HSC) programme saw a passing rate of 93.75% in their recent examinations.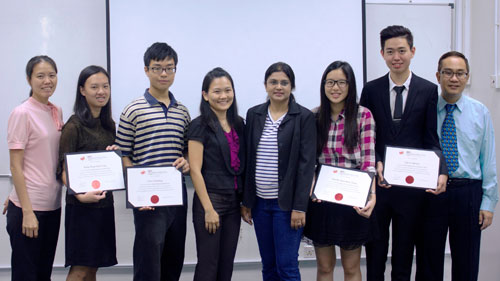 HSC students with lecturers from INTI International College Penang share a proud moment together when they received their results
IICP's top scorer Chow Zhi Ming performed outstandingly in the exams and received an ATAR of 93.85, followed closely by fellow classmate Michelle Tham Hooi Chong who earned an ATAR of 93.80.
"I chose INTI Penang as it was the only institution to offer this unique course. I am incredibly grateful to my lecturers who each impacted me in their own way and supported me in achieving this success. It has certainly opened my pathway to an international education and potential career," Chow shared after receiving his results.
A firm believer in the importance of time management, Chow emphasised the need for continuous effort and in making a personal initiative towards learning. Revising materials ahead of classes and developing a good command of the English Language were the main reasons for his success.
Widely regarded as one of the most prestigious Australian matriculation credentials, the NSW HSC is accepted by universities in Australia, New Zealand, UK, USA, Canada, and India, as well as Malaysian private universities into popular degree courses in medicine, pharmacy, engineering, business, IT and more. IICP offers a wide range of subjects in the sciences and commerce, and students may combine subjects from the two for broader options.