JinnyBoyTV, one of Malaysia's most well-known video production teams and winner of Malaysia's Most Popular YouTube channel at the WebTVAsia Awards 2015 organised their latest video shoot at INTI International College Subang. Shot for HP Malaysia, the video highlighted the importance of "being yourself" and was directed by Jin Lim himself – an alumni of the former Metropolitan College which is now part of INTI's campus – with fellow producers, Reuben Kang and Alan Lok helming the cameras and set management.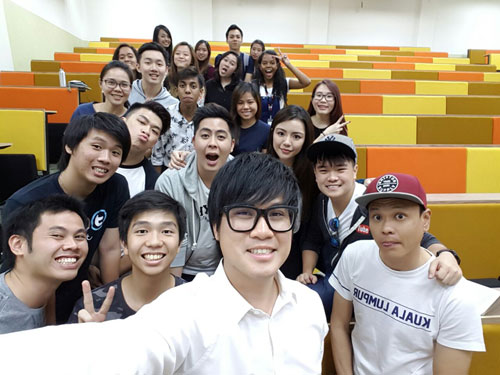 INTI students and the crew of Jinnyboy at the end of the shoot
The video captured a number of INTI's well-known locations including its recently refurbished lecture theatre which has been fitted with brand new equipment. The refurbishments come as part of INTI's focus to combine traditional classroom methods with the use of technology and online learning management systems which provide students the most innovative learning experience.
In addition to the venues, the shoot also provided INTI students the opportunity to be a part of the experience by playing extras. About 30 students, many of whom were from INTI's Mass Communication's programmes, signed up to have a taste of the limelight and were also exposed to the ins and outs of a professional video shooting experience.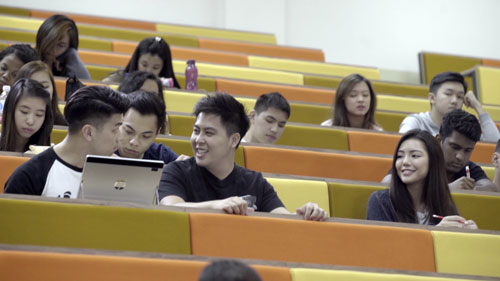 Students filming at INTI's lecture theater
Timothy Johnson, Senior Vice President, Marketing, Products and Partnerships at INTI said, "Having JinnyBoyTV on campus was a great learning opportunity for our students, especially those who aspire towards becoming future directors, producers and presenters themselves. Such activities provide our students with actual insights into their chosen industries and allows them to gain a perspective on the realities of the workplace, especially one as unique as video production."
Watch the official video at https://goo.gl/04RufH