Malaysia's hospitality business is one of the fastest-growing sectors, contributing considerably to the country's economic growth. To cater to the demand for professionals in the field, INTI International University & Colleges commits itself to providing students real-world experience so that they can prepare for the challenges of the future workplace.
By collaborating with well-established names in the hotel industry, INTI International College Penang's School of Hospitality (SOHOS) ensure students gain the knowledge and competencies required when they graduate. In a recent employer project with G Hotel, students were expected to identify critical factors for the success of talent management at G Hotel. In this way, they can gain practical know-how to match theories they learned in the classroom, allowing them to graduate with a holistic view of the specialisations and stand out among their peers when entering the workplace.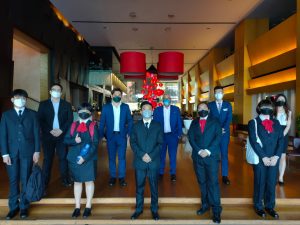 (From left to right) Clemment Foo, Jeff Lim, Head of the School of Hospitality (SOHOS), INTI International College Penang, Shazeel Ali, senior lecturer at SOHOS, and Aaron Leong pose with students from INTI International College Penang's Diploma in Hotel Management programme at the entrance of G Hotel, Penang.
Aaron Leong, Assistant Talent Development Manager of G Hotel, said students were given a problem statement and acted as consultants to analyse and provide possible solutions. This time around, students were exposed to the current industry challenge of labour shortage brought about by the pandemic. The three-month project began in January and ended in March this year.
According to Aaron, the pandemic caused challenges to hotels around the world and one of it included insufficient staff.
"Many players were forced to take drastic measures including temporary closure and cutting down manpower in order to sustain the business," he added.
Joan Loh Wen Xin, who is pursuing her Diploma in Hotel Management, was pleased with her overall experience working on the employer project with G Hotel as the management was supportive and provided students guidance from start to finish.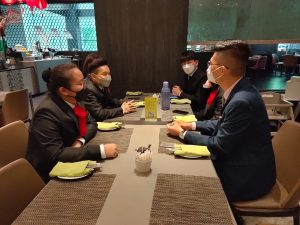 Joan Loh Wen Xin (front left) and Aaron Leong (front right) with students from INTI International College Penang's Diploma in Hotel Management programme.
Their project, Contemporary Talent Management Issues in Laundry Department, looked at how G Hotel could retain manpower in the laundry department.
"The laundry area is hot, so we had to do something about it," said Joan, who added that the team brainstormed recommendations on how to improve the laundry room located in the basement through their 3D concept. The 3D concept, which stands for Doable, Dynamic and Deserving, can help boost the mood of employees at the workplace and elevate productivity.
She continued that by following these concepts, they can motivate people working at the hotel, which will in turn help them produce better quality work.
Under the guidance of SOHOS faculty members, the students managed to impress the Management of G Hotel with their presentation.
"They have had to adapt to fast-paced challenges in the hotel industry. We are grateful to have students from INTI who were fast learners and proactive. These are essential traits given the ever-changing environment of the industry," said Aaron.
A look inside the laundry area of G Hotel, Penang.
Clemment Foo, a senior lecturer at SOHOS, believes that hospitality education is future- proof and the skills students acquire at INTI are transferable to any career they wish to pursue in the future.
"At SOHOS, students build a strong foundation of know-how and know-why in an experiential learning environment. They also develop critical thinking when they take part in employer projects, allowing them to demonstrate their ability to solve complex and real business problems," he added.
Meanwhile, Joan shared that the opening of the country's borders gives hope to hoteliers and future graduates who will soon seek employment in the field.
"I hope to move up the ladder in the hotel industry, no matter how long it takes. Working in this line makes me happy. It brings a smile to my face and gives me satisfaction when I see hotel guests smile – being in this industry means you get to serve and entertain a lot of different people," concluded Joan.