INTI International University & Colleges' strategic partnership with TEDxKL, one of South East Asia's biggest TEDx conferences, took a significant step further in 2016 with the yearlong curation of the #TEDxINTI series, a succession of five independently organized TEDx events held at each of INTI's campuses across Malaysia. INTI is the first institution of higher learning in Malaysia to organize a consecutive series of TEDx events at all its locations within the course of a single year, with the final leg, #TEDxINTISabah being recently completed at INTI's campus in Kota Kinabalu.
In span of 8 months, TEDxINTI series saw 5 TEDx events happening across INTI campuses around Malaysia.
TEDx is a program of local, independently organized events that inspire communities to discuss big ideas on a wide range of subjects – education, health, science, design, technology, entertainment and more. Since its launch in 2009, there have been more than 15,000 TEDx events in 170 countries, with a further billion people engaged online.
"We have played partner and sponsor for the TEDxKL event, over the last three years, and with the experience and knowledge we've gained from working closely with them, we decided to organize TEDxINTI this year as part of our celebrations for INTI's 30th anniversary," said Timothy Bulow, CEO of INTI International University & Colleges.
TEDxINTI also provided an incredible opportunity for students from all of INTI's campuses to participate as curators and organizers for the event, exposing them to the ins and outs of planning, organizing and managing these events that closely reflected the established TED Talks. Students from its' flagship INTI International University, in Nilai to those across the Penang, Kuala Lumpur, Subang and Sabah campuses were provide with personalized support and opportunities for cross campus engagement which empowered them to organize the TEDx event at their own campuses.
"By empowering our students to build stronger, more connected communities via these TEDx events, we believe these young leaders will not only improve their civic engagement but also all the aspects of managing an event of this scale. This gives them invaluable real life exposure managing people and deadlines, and also teaches them how to see through a project from start to finish, including the challenges of selling tickets, confirming speakers and dealing with contingencies that arise along the way", Bulow added.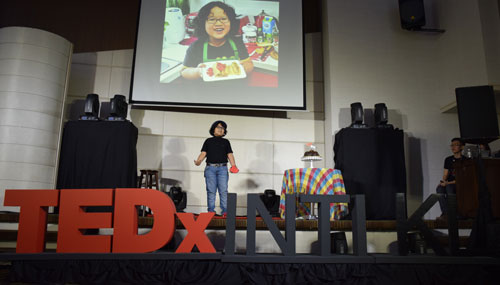 Cooking up a storm – Danish Harraz, a 9 year old chef who is passionate about cooking.
To provide students with the necessary knowledge and insights into running a TEDx event, TEDxINTI also saw the involvement of Daniel Lim, the curator of TEDxKL, who mentored the students and conducted personalized training sessions to help the students understand the methods and ways to extract the best content from their chosen speakers.
"It's not an easy process to organize a TEDx event and I am glad the students from all these INTI campuses have been able to successfully organize it within the last eight months. This is by no means an easy feat as it requires a huge commitment and the success of these students simply goes on to show the level of professionalism they have. "With TEDxINTI, I am sure that INTI will be able to create students who will not only come out as graduates with a heightened sense of social responsibility, but will also have the real life experience of handling such a massive conference," said Daniel.
TEDxINTI also saw the establishment of the TEDxINTI Clubs at each of the five campuses, with students taking up leadership roles and working closely together with the speakers that presented their ideas during the conferences. The initiative, which started in March 2016, has seen over 1,000 participants and 50 speakers over the last eight months.
Andrew Yee, a final year Marketing and Management student at INTI International College Subang and the curator for TEDxINTISubang spoke about his own experiences in managing his first ever TEDx event.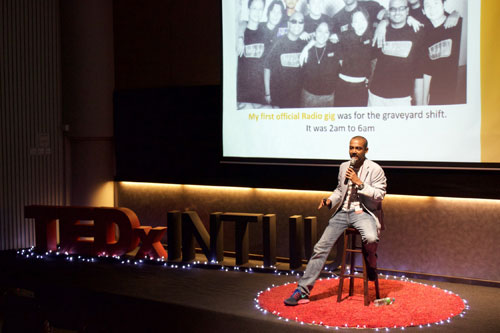 A voice that is familiar to all Malaysian radio listeners, JJ Fernandez during his TEDxINTI talk at INTI's Nilai campus.
"It's certainly has been an enlightening experience to organize a TEDx event in our very own campus. I have been watching TEDx Talks on the internet for a really long time and to be given the trust and opportunity to organize one was great. More importantly, with the establishment of the TEDxINTI Club, we were able to identify 12 inspiring speakers and provide them a stage to share their ideas. That was definitely worth it."
Some of the notable speakers included JJ Fernandes, one of the country's pioneer radio announcers; Robest Yong, an entrepreneur; Barbara Jansen, founder of 4Paws; Siron Pereira, the Head Coach for Malaysian Debate Team; Danish Harraz, a 9 year old chef; Abel Chuah, the Regions Manager for Teach For Malaysia; and Megan Steven, an activist.
In celebrating INTI's 30th anniversary, each of the campuses also invited some of their outstanding alumni to participate as speakers, including Heidy Quah, founder of Refuge for the Refugees; Marcus Low, founder of Hostel Hunting; Edison Lim, Magician and Entrepreneur; Swarna Naidu, a finalist at Miss Universe Malaysia 2016; Ganesh Muren, CEO of Saora Industries and winner of Laureate's Here for Good Award 2016; and Rica Sham, an announcer at Hitz.FM Sabah.
The TEDxINTI series is set to continue in 2017 with more emphasis to be provided in empowering young minds to unearth inspiring individuals and to provide them a stage to share their stories.
For more information on TEDxINTI, kindly contact Joshua Kandasamy at joshua.kandasamy@newinti.edu.my