Muyombano Happy Axel had always dreamed of making a difference in his home country of Rwanda. Driven by this goal, he decided to pursue higher education in a foreign country. Happy, as he is affectionately known by his friends and family, is now back home in Rwanda, where he resides in its capital, Kigali.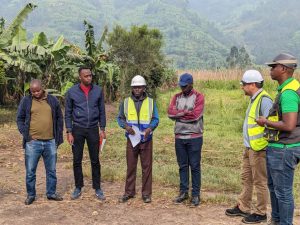 Happy (second from left) travels to different districts in Rwanda with colleagues and contractors to ensure the progress of projects.
The design engineer working at the Energy Development Corporation Limited (EDCL), a Rwanda Energy Group (REG) subsidiary, said challenges from his childhood was a powerful motivator for him.
"When I was young, power outages were common in my country. This bothered me because the only place where the lights were consistently on was at my uncle's place. My uncle was an electrical engineer. I wanted to live in a place where there were no power outages, so I decided to study electrical engineering like him," said Happy who grew up in Huye district in the southern province of Rwanda.
Intrigued by the positive experience shared by his cousin who graduated from INTI International University in in 2017, Happy decided to take the step to study in Malaysia.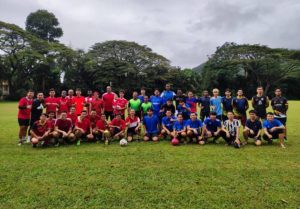 Happy (standing ninth from right) pictured in one of the friendly matches he took part in during his time at INTI.
"I was sold by the positive review, so I emailed INTI and discovered that the electrical engineering course I was interested in is only offered at INTI International College Penang. Through Google I also found out that Penang is famous for its good food, which further fuelled my desire to go there," said Happy who enrolled in the Foundation in Science programme for a year before progressing to the Bachelor of Engineering with Honours in Electrical & Electronic Engineering in collaboration with Coventry University, UK, at INTI International College Penang.
In 2020, the Covid-19 pandemic left Happy stranded in Malaysia for three years. The homesickness he experienced was only soothed by daily online conversations with his mother. Despite the hardships, Happy found support among other international students and this pushed him to set up the International Students Club, of which he was its first president.
"The club is a platform for international students to help each other. We document the challenges and channel them to the INTI management for further action and solutions. I am glad that the club is still active," he said.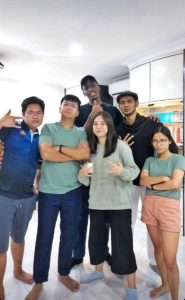 Happy (third from left) with his friends from Church celebrating Christmas.
Besides playing football during his free time, Happy also finds fulfilment in practicing his faith through Christian fellowships at INTI.
"I was initially afraid that I would not be able to practice my religion in Malaysia. However, I was pleasantly surprised to find a place to pray and met the Christian community where we meet every Thursday. They are like a second family," he added.
According to Happy, his time at INTI had instilled in him a continuous learning mindset and gave him knowledge on new technologies. Through assignments, he was exposed to various software programs. The skills he picked up proved to be valuable in his current job as a design engineer, where he focuses on designing power distribution line systems and supervises contractors' work.
"As a design engineer at EDCL, my main responsibility is to design power distribution line systems and one-line diagrams for substations using PLS CADD and Auto CAD. During my studies, we were taught to consider the end user's needs and preferences. I adopt the user-centric approach in my current job where I focus on prioritizing the end user in all my designs," he said.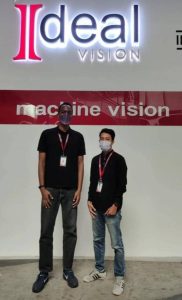 Happy and his friend, Mr. Badrul, pose at the end of his internship at Ideal Vision which inspired him to develop a Machine Vision Based Agriculture Drone project for the University of Rwanda.
According to Happy, his goal is to contribute to Rwanda's development, particularly in ensuring access to electricity for all by 2024, which will improve people's lives. Besides that, he takes pride in pitching an innovative project titled "Machine Vision Based Agriculture Drone" which was accepted by the AI and IoT Centre of Excellence of the University of Rwanda. The project will benefit farmers in Rwanda.
He highlighted, "The project has been accepted into the incubation hub and is being developed into a Minimum Viable Product – a basic version of the machine version-based agriculture drone with funding from the World Bank. Furthermore, this initiative allows me to connect with talented young people who had also pitched their innovative ideas. I really hope this initiative can help the farmers in Rwanda."
Recalling his time in Penang, he said he missed the warmth and friendliness of the people. He also missed the delicious chicken biryani, which he now finds difficult to obtain in Rwanda. As for missing his college friends, he keeps in touch with them on social media.
He said one important lesson he has learnt was the importance of gaining industry connections during his time as a student, and he said if he would work on that if he could turn back time.
"Industry people can give you a better understanding of how things work in the real world," he said.
If he could advise young students, he would tell them to be curious and seek knowledge. Devoting time and attention to each subject and forming friendships with motivated students will lead to a valuable learning experience.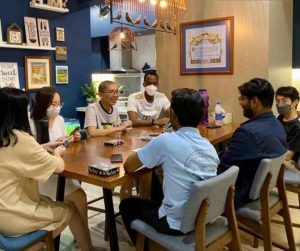 Happy at a gathering with INTI College Penang's Christian Fellowship Club.