We are living through a fundamental transformation in the way we work as the world is rapidly changing. Now more than ever, with developed economies facing an aging workforce, businesses will thrive only if they are agile and adapt quickly to change, which also means the workforce must become agile.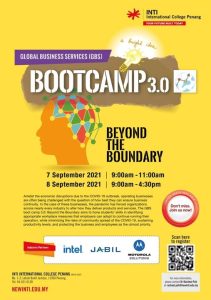 INTI International College Penang organised the GBS Bootcamp 3.0 themed "Beyond the Boundary" which hopes to bridge the gaps between industry and academia to ensure undergraduates gain the competencies needed for the workplace of the future.
With that in mind, INTI International College Penang's School of Business, in collaboration with the Centre of Australian Studies, School of Information Technology and INTI Career Services, recently organised the third GBS (Global Business Services) Bootcamp. Themed "Beyond the Boundary", it aims to educate students on the hiring needs and trends of today.
The two-day event saw over 100 undergraduates from various programmes during the opening ceremony which was also attended by Hemalatha Murugiah, Chief Executive of INTI International College Penang, and Evelyn Teoh, Head of Finance Operations Centre from Motorola Solutions Penang.
Among the activities lined up during the event was a competition where participants were tasked to pitch their ideas to judges for solutions to modern business challenges in GBS. Students were exposed to real-life case studies and received mentorship from Intel, Jabil, and Motorola executives.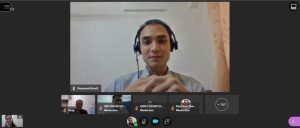 Feedback given by industry coach Desmond Teoh, Senior Financial Analyst, Intel Corporation.
The Bootcamp kicked off with an opening speech by Hemalatha, who shared the significance of the event to her audience.
"Despite the pandemic, many jobs have taken changes in this era of IR4.0. Change is already happening and accelerating. It has formed a new revolution that has made an impact on job availability, job opportunities, and the demand for jobs."
The education industry is also not spared from this disruption, with continuous changes seen in teaching and learning. In fact, academic institutions like INTI play an important role, particularly in ensuring that graduates remain relevant in the digital economy and IR4.0 space.
Hema further explained, "There are many opportunities made available to students today, such as career fairs and bootcamps, which allow them to meet recruiters and help prepare them for their next steps before and after graduation.
Feedback from industry coach Francis Wong, Talent Acquisition from Jabil.
"The GBS Bootcamp gives students the chance to showcase their talent in front of their future employers. While finding a job through online sources is possible, there are advantages to attending the Bootcamp. I hope those taking part will grab the opportunity and try to learn as much you can from the industry leaders present," she said, adding that the initiative will also allow the industry to address talent-related issues.
Delivering the keynote address, Evelyn Teoh expressed her appreciation for being able to be a part of the event and applauded the efforts taken by INTI. "I am glad the COVID-19 situation hasn't stopped INTI from successfully organising this Bootcamp for three consecutive years.
"According to SSON (Shared Services and Outsourcing Network) in ASEAN, the number GBS centres have grown by nearly 70% since 2010 where Malaysia owns more than a third of these centres followed by Philippines and Singapore. Our current global data findings indicate that the GBS market size in Malaysia itself is expected to grow from US$1.3 billion in 2019 to US$1.5 billion by the end of 2024.
"The government's commitment to improving digital infrastructure and providing a pipeline of digitally ready workforce allows us to reinvent ourselves as a preferred location for high-value GBS," she said.
When asked whether the pandemic has impacted GBS, Evelyn shared, "In my opinion, the pandemic has become an eye-opener for our GBS stakeholders and investors. The multi-locations and consolidated business practices to all shared services and outsourcing activities across an enterprise are no longer our most priority.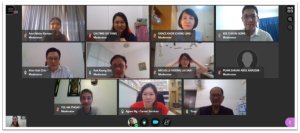 Faculty coaches from INTI International College Penang.
"In the last 18 months, when everyone is working from home, has created confidence for our stakeholders and investors that value-added roles can now be placed in a location where we have the right pool of talents versus in the past.
"This year's GBS Bootcamp with the theme titled Beyond the Boundary is very much related to the challenge of keeping GBS competitive despite the pandemic. It looks like businesses are often challenged with questions of how best we can ensure business continuity in these economic disruptions due to COVID-19."
Following the opening ceremony, graduates were divided into companies of their respective industry.
Among the leaders and industry coaches who graced the two-day event were Pauline Kang, Lean Six Sigma Lead from Intel; Desmond Teoh, Senior Financial Analyst, from Intel; Francis Wong, Talent Acquisition from Jabil; Teoh Teik Lee, Senior Director and Centralized Procurement from Jabil; Stephanie Tung, South Asia Regional Finance Controller of Motorola Solutions; Charmaine Tan, GTM Lead and SG Finance Controller of Motorola Solutions, among others.
Besides the effort from industry partners, students, lecturers, GBS Bootcamp 3.0 was made possible by a committee comprising lecturers and faculty coaches from INTI International College Penang including Dr Racheal Poh, Project Lead and Head of Program; Yeap Chang Lee, Head of Department of Career Services; Kok Chin Kor, Dean from School of Business; Anni Malar, Sub Dean from the Centre for Australian Degree Programme, and lecturers from the School of Business.