With Malaysia's renewed love affair with Japan sparking its Look East Policy 2.0, one of the key considerations of this transnational partnership is the closer integration of Japan's education system into Malaysia . Conversations between Prime Minister Tun Dr Mahathir Mohamad and Prime Minister Shinzo Abe have in the last few months led to plans for three Japanese campuses setting up branches in Malaysia , a first for the island nation.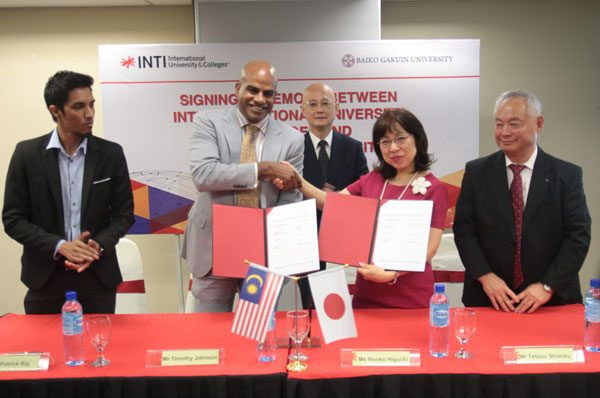 Fostering further education relations with one of Asia's most advanced nations, INTI International University & Colleges (INTI) has today inked an agreement with Baiko Gakuin University (BGU) to provide English language training for Japanese students through INTI's Intensive English Programme (IEP). The ceremony was graced by Mr Hiroyuki Orikasa, Minister Counsellor and Deputy Chief of Mission from the Embassy of Japan, and YBhg Dato' Dr Ibrahim Ahmad Bajunid, Chairman of the National Education Policy Review Committee, Ministry of Education and an Emeritus Professor of INTI International University.
Tim Johnson, Senior Vice President, Marketing, Products & Partnerships, INTI International University & Colleges said, "This official ceremony builds on an already established partnership and we are pleased to work with BGU in the development of language, communication and problem solving competencies among these students. While technological advancements are paving the way for new economic and societal growth, these competencies remain vital for graduates to thrive in the global workplace."
A private liberal arts university based in Shimonoseki, Honshu, in Japan, BGU traces its education roots to as far back as 1872. Operating as a 4-year college since 1967, the university specialises in majors covering Languages, Literature & Cultures, International Business & Communications, and Child Development. In 2018, 32 trainee teachers participated in the IEP and INTI's unique Design Thinking course that teaches problem solving and communication skills using the United Nations Sustainable Development Goals.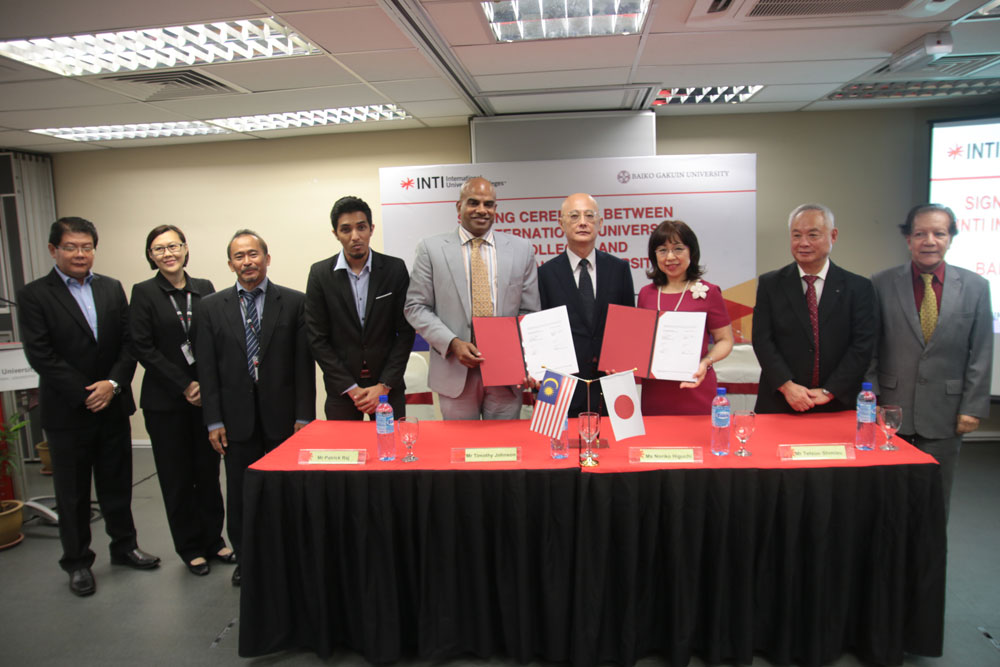 Beyond their classroom experiences, the students engaged in the robust student life at INTI International University, home to students and staff from over 80 countries, and learnt about Malaysia's diverse cultures and traditions. During their visit in 2018, students explored Petaling Street, the Kuala Lumpur City Centre (KLCC), Dataran Merdeka, Putrajaya, Melaka and the Mah Meri Cultural Village in Pulau Carey, Selangor.
Ms Noriko Higuchi, President of BGU who personally attended the signing ceremony, shared, "Having the opportunity to learn and meet not only Malaysians but other international students and faculty, while within the safety of an established university, is one of the best ways for our students to experience new cultures and build the relationships that will last a lifetime. Today's borderless careers and globalised workplaces require early international exposure and gaining this while still studying is an added advantage for our students."
In his speech during the ceremony, Mr Hiroyuki Orikasa, Minister Counsellor & Deputy Chief of Mission, Embassy of Japan explained that while innovation and big data are reshaping the future of Japan and Malaysia's economies and societies, the acceleration of human talent development in building advanced nations and the training of young professionals is of the highest importance. Working together collectively as academia, administration and industry, he shared, would allow universities and nations to tap into a wider range of resources and set the stage both for individual and collective prosperity.