Date:
2022-06-22
Time:
16:00 - 18:00
Location:
Microsoft Teams Meeting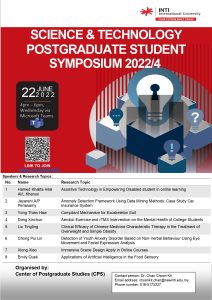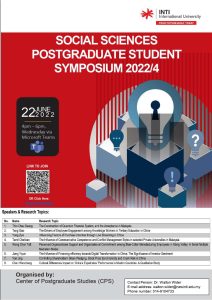 INTI is delighted to host its annual "Postgraduate Student Symposium" on 22nd June this year. Organized by the Center of Postgraduate Studies (CPS), the symposium serves to provide a platform for students to interact and effectively share insightful knowledge with expertise from various institutions in related fields.
The symposium is divided into clusters, Science & Technology and Social Sciences. The symposium will be held simultaneously through Microsoft Teams.
Don't miss out golden opportunity to share your latest findings and go beyond your own research topic.
Date: 22nd June 2022
Time : 4pm-6pm
Platform: Microsoft Teams
To register :
Science & Technology: https://bit.ly/3NV1DeA
Social Sciences: https://bit.ly/3xteUpj
+ Add to Google Calendar