Date:
2022-03-07
Time:
15:00 - 17:00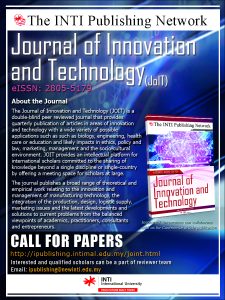 JoIT invites you to submit manuscripts for consideration in this scholarly journal. Empowered by a group of editors and reviewers, we welcome research papers, reviews, reports and other manuscript related to innovation and technology. No charges will be imposed on the publication fees throughout 2022.
Do contact Professor Dr. Tezara Cionita, Managing Editor of JoIT at tezara.cionita@newinti.edu.my for more details
Teams Link : http://ipublishing.intimal.edu.my/joint.html
See you there!
+ Add to Google Calendar