Date:
2022-03-07
Time:
15:00 - 17:00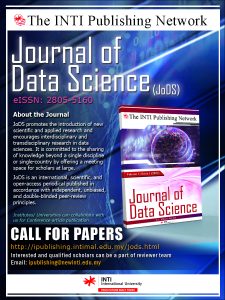 The Journal of Data Sciences (JoDS)
The Journal of Data Science (JoDS) managed by INTI International University is calling for papers. We invite aspiring researchers, academicians, graduate students, and practitioners to publish your manuscripts with us. JoDS is a double-blind peer reviewed journal, empowered by a group of editors and reviewers. No charges will be imposed on the publication fees throughout 2022. Submit your article today and gain worldwide visibility.
Do contact Dr. Deshinta Arrova Dewi, the Managing Editor of JoDS at deshinta.ad@newinti.edu.my for more details
Teams Link : http://ipublishing.intimal.edu.my/jods.html
See you there!
+ Add to Google Calendar