Date:
2022-03-07
Time:
15:00 - 17:00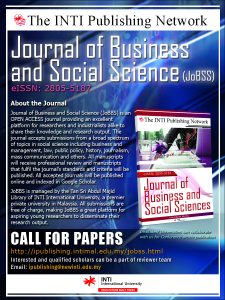 The Journal of Business and Social Sciences (JoBSS) is calling for papers. JoBSS is a beneficial platform for young academicians to publish your works. Managed by INTI International University, a leading private university in Malaysia, we encourage young and aspiring researchers to publish your work with us. You will enjoy a critical but friendly review besides a fast publication process. Above all, we don't charge any processing fees for your publication.
Do contact Associate Professor Dr. Tan Seng Teck, Managing Editor of JoBSS at sengteck.tan@newinti.edu.my for more details.
Teams Link : http://ipublishing.intimal.edu.my/jobss.html
See you there!
+ Add to Google Calendar