Date:
2022-03-22
Time:
14:30 - 16:00
Location:
MS Teams URL: https://bit.ly/ISFSymposium2022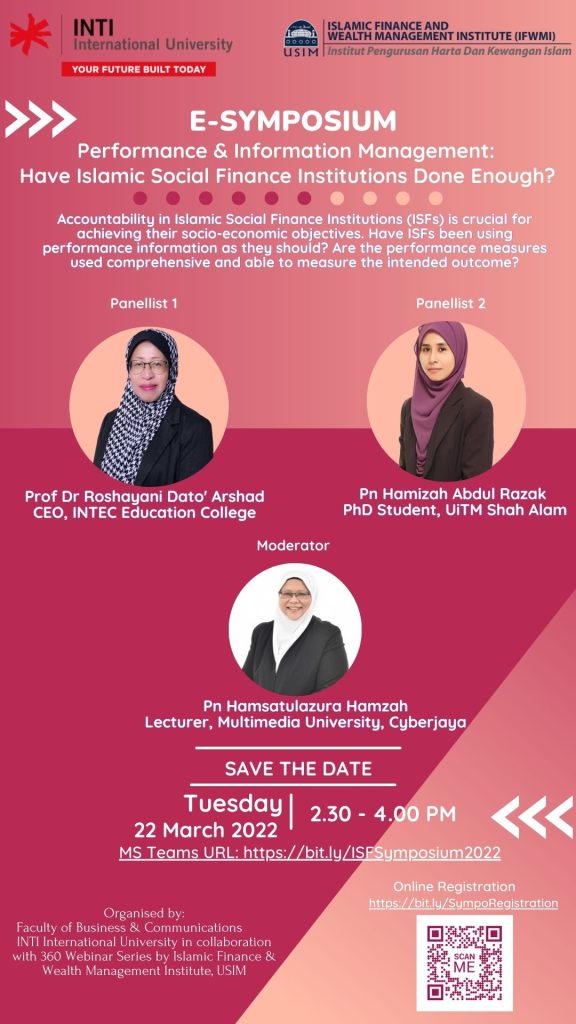 Accountability in Islamic Social Finance Institutions (ISFs) is crucial to achieve their socio-economic objectives. Have ISFs been using performance information as they should? Are the performance measures used comprehensive and able to measure the intended outcome?
The above issues will be addressed in an E-Symposium titled: Performance & Information Management: Have Islamic Social Finance Institutions Done Enough?
The E-Symposium is co-organised by the Faculty of Business and Communications, INTI International University in collaboration with Islamic Finance and Wealth Management Institute, Universiti Sains Islam Malaysia
We have invited the following panellists who have various research in the areas of Islamic Social Finance, Islamic Philanthropy, Performance management and Knowledge Management.
Prof Dr Roshayani Arshad (CEO, INTEC Education College)
Pn Hamizah Abdul Razak (PhD Student, UiTM Shah Alam)
The event will be moderated by
Pn Hamsatulazura Hamzah (Lecturer, Multimedia University, Cyberjaya)
Save the date to
Date: 22 March 2022 (Tuesday)
Time: 2.30 -4.00pm
Online platform: MS Teams URL: https://bit.ly/ISFSymposium2022
And register using the following link: https://bit.ly/SympoRegistration
#IslamicSocialFinance #IslamicPhilanthropy #PerformanceManagemen t#KnowledgeManagement #Performanceinformation #USIM #IFWMI #INTIFam
+ Add to Google Calendar