Date:
2022-03-26
Time:
10:00 - 12:00
Location:
INTI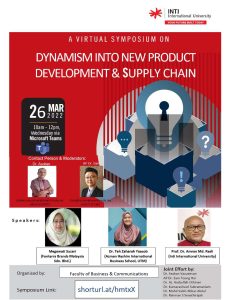 INTI online symposium topic focusing on: "Dynamism on New Product Development and Supply Chain."
If a business wants to maintain a steady stream of revenue or boost sales over time, it must develop a series of popular items. The development of new products entails several stages and a significant financial investment, with no assurance of success. Companies must still persuade purchasers to incorporate new products into their daily routines in order to maintain regular sales. Continuous or discontinuous innovation occurs in established markets, whereas discontinuous innovation has the ability to develop new markets or consumer behaviours.
The marketplace is dynamic and ever-changing, and product demand fluctuates as requirements, wants, and technologies evolve. As a result, companies must constantly evaluate their present product line and look for ways to keep it current and in line with consumer preferences. Making decisions about whether or not to offer new products on a regular basis is necessary (and whether old products should be removed).
Supply chain performance is important in the NPD process since it not only influences capital investment in manufacturing and distribution capacities, but it also dictates the essential route for launch dates in many circumstances. Along with supply chain, sales, marketing, research and development (R&D), legal and regulatory, quality, programme management, and executive management all play important roles in making NPD a success. Companies should be better positioned to increase the business success of introduced products if they use a systematic and scientific approach to address NPD performance gaps and execute targeted opportunities for supply chain and other related areas.
Teams Link : shorturl.at/hmtxX
See you there!
+ Add to Google Calendar