While technology's impact to business and manufacturing have dominated most conversations, Industrial Revolution 4.0 (IR 4.0) is also making its mark in the world of design, shifting the roles and competencies of designers to mean more than just layouts and logos. The emergence of new and easily available technologies has blurred the lines between the various facets of design and is leading to the emergence of previously unchartered careers.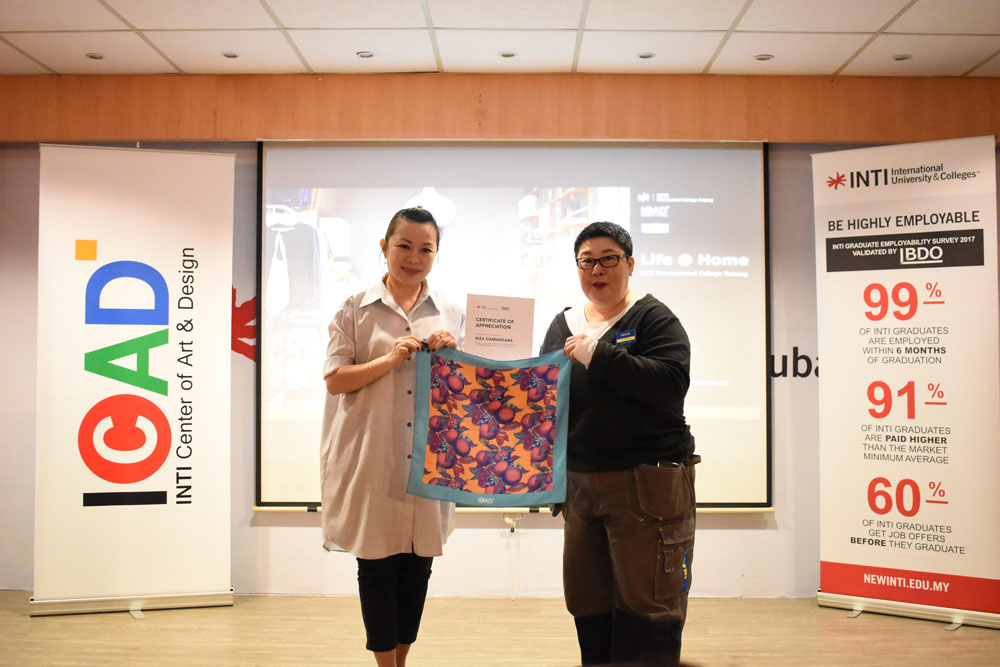 Dr Jane Lim, Chief Executive of INTI International College Subang (left) presenting a token of appreciation to Aileen Abdul Malik, Interior Design Manager of IKEA Damansara (right).
These new prospects are growing in popularity among Malaysia's creative young talents who are looking for opportunities to combine their technical skills and knowledge with their passion for art and design, and will undoubtedly bring to the table a new wave of ideas and inventions .
In nurturing these budding designers for the 21st century, the INTI Centre of Art & Design (ICAD) and INTI's Career Services recently organised two boot camps with global and local design leaders IKEA and Naga DDB Tribal for students from INTI's interior design and graphic design programmes respectively.
Aimed at creating opportunities for students to connect with industry leaders personally and gain practical insights into workplace trends and expectations, the boot camps were launched by Dr Jane Lim, Chief Executive of INTI International College Subang, and welcomed Aileen Abdul Malik, Interior Design Manager of IKEA Damansara and Clarence Koh, Chief Operating Officer of Naga DDB Tribal.
"Over the last two years, INTI has leveraged boot camps to welcome senior leaders to campus as part of our practical teaching endeavours. Leveraging small group settings, students gain insights into the expectations of the workplace directly from seasoned professionals in their field," said Dr Jane.
"In addition to sharing sessions by industry leaders, boot camps also provide students with an avenue to express their ideas through case studies. Through working on actual industry issues, students put their competencies such as problem solving and creativity to the test, and simultaneously receive feedback from these leaders," Dr Jane added.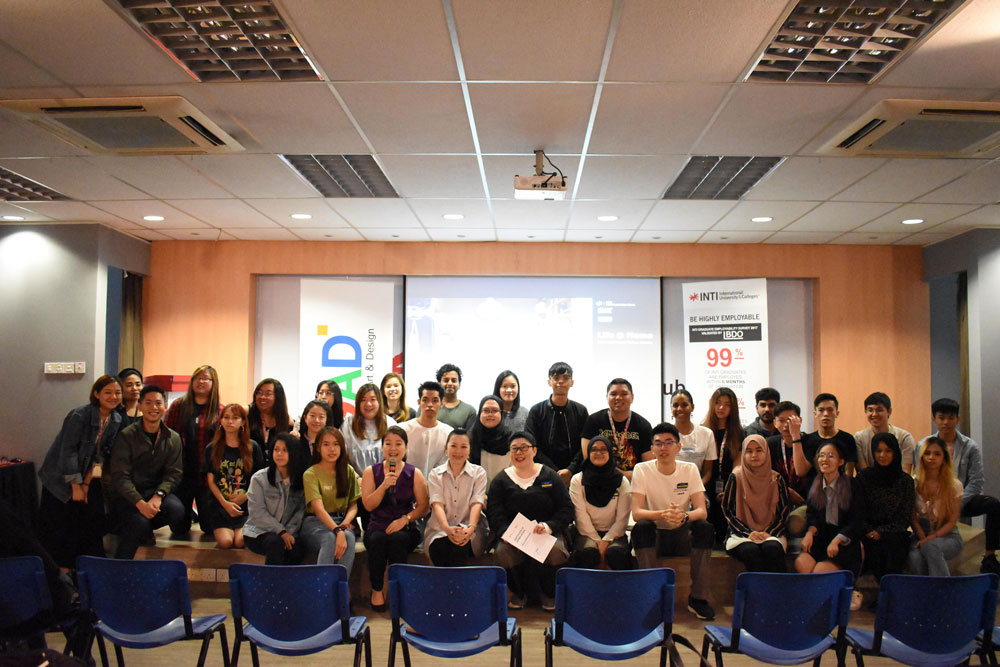 Dr Jane Lim (seated, fourth from left) and Aileen Abdul Malik, Interior Design Manager of IKEA Damansara (seated, fifth from left) posing with INTI students during INTI's interior design boot camp.
A seasoned interior designer with over 15 years of experience, Aileen Abdul Malik shared her expertise on how IKEA approach interior design. During her session, she emphasised the importance of locally relevant design, how to create mood boards, and how to plan functional bubbles for various family dynamics in all areas of the home.
Aileen explained, "Interior designers must be in touch with the life at home for various types of families, and planning and designing should be based on the activities, needs and solutions within the public and private spaces of a home. The needs of a newly-wedded couple would be different from those with young children, or even adult-children who live with their aging parents."
Leading the boot camp for graphic design students on the same day, Clarence Koh, along with Rachel Hoo and Candice Chhoa from Naga DDB Tribal's creative team, emphasized the importance of collaboration, idea-sharing, problem solving, and leveraging technological innovations. For their case study, students were tasked to enhance Kentucky Fried Chicken (KFC)'s Raya celebration brand campaign with their very own concepts and ideas.
Working alongside the students and listening to their presentations at the end of the event, Koh expressed his amazement at the students' openness towards receiving criticisms and managing rejections during the presentation session. He applauded their positive attitude to accept and learn from their mistakes, and commended them for their efforts in preparing for their career pathways, which he believed they were ready to excel in.
Dr Jane concludes, "Invaluable experiences such as these help shape the ideas and understanding of our students beyond classroom learning. We are truly grateful to our partners for taking the time to be a part of the learning journey. With industry playing an active part in the education process, we not only provide knowledge but also help young talents discover their passion and true potential for the opportunities awaiting them tomorrow."