A recent research conducted by Associate Professor Dr. Wong Chee Hoo from the Faculty of Business and Communication of INTI International University revealed that the Generation Y (Gen Y), aged between 22 to 38, are active users of digital wallets. E-wallet transactions rose to an average of 25% post-COVID-19, indicating that consumers will continue to use digital payments due to the convenience it presents.
"Although the digital wallet has existed for over 20 years now, it's only within the last decade that it has rapidly evolved, revolutionising the way we search and pay for goods and services," said Dr. Wong in his research paper.
Digital wallets, also known as e-wallets, are mobile apps that store credit or debit card details in one location and allow users to make cashless purchases in-store and online using their phone or a wearable device[1].
"In 2011, Malaysia launched the Financial Sector Blueprint 2011–2020, a strategic 10-year programme to map the future direction of Malaysia's financial system to transform the economy into a high income cashless society. The blueprint mentioned that the issuance of e-money to replace cash payments had become the most expedient, secure and cost-effective way of moving funds over paper-based money," shared Dr. Wong.
He further explained, "In fact, Malaysians recorded an average of 170 digital payments in 2020 and a report by Boku Inc. highlighted that e-wallets are the most preferred payment method among consumers in Southeast Asia[2]."
According to Dr. Wong and his team of researchers from INTI International University, e-wallets can also be used to store identification documents or digital rewards, tickets, boarding passes, and room keys, eliminating the need to carry around a physical wallet. Using biometric recognition and data encryption, these digital wallets are not only convenient but also gives users a greater sense of control and security.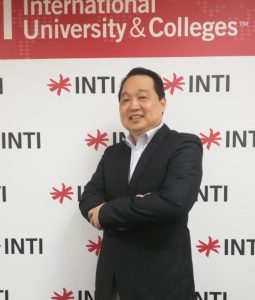 Associate Professor Dr. Wong Chee Hoo from the Faculty of Business and Communication of INTI International University discussed in his research that the pandemic boosted the adoption of e-wallets in Malaysia compared to when it was launched in 2017.
Cashless payments were first introduced locally following a collaboration between Touch 'n Go and Ant Financial. While the use of e-wallets has grown over the last ten years, the research also discussed that it was not intensively used in Malaysia until the pandemic hit in 2020.
"The pandemic and enforcement of movement control orders in Malaysia boosted the adoption of e-wallets as the situation had driven the need for cashless payments due to new shopping preferences. Our study shows that age is an influencing factor in the use of e-wallets among Malaysians," Dr. Wong stated about the use of e-wallets among Malaysians.
He elaborated, "There are 32 million citizens in this country, but 10 million Malaysians do not utilize online banking and another two million do not even have a bank account. We hope that the recent introduction of certain policies in the country pertaining online banking and digital payments will excite these groups of people to engage in the e-wallet payment system."
Moreover, Dr. Wong explained that while young adults in Malaysia born in the smartphone technology era use these e-wallet applications more frequently compared to senior citizens, the older generation is slowly adapting to the e-wallet culture lately as they embrace the cashless culture.
He said senior citizens need to be reminded that e-wallets are not banking accounts, but allows consumers to carry out sales and purchase transactions at the point of sale.
"Various news and reports have shown that age plays an important role towards the usage of e-wallets and its transactions. As e-wallets are viable even at a traditional local market, more awareness and incentives should be introduced to attract more users, not just the young and tech-savvy ones. With a little push from the government, e-wallet providers and banks will boost adoption, even among smaller businesses and roadside stalls. It will be one of the strategic tools to achieve greater economic efficiency, productivity and growth as Malaysia transitions towards a high value-added and high-income economy," concluded Dr. Wong.
[1] https://www.bloomberg.com/news/articles/2021-07-08/southeast-asia-is-world-s-fastest-growing-mobile-wallet-market
[2] https://themalaysianreserve.com/2021/10/18/pandemic-pushes-more-than-80-growth-for-e-wallet-players/