Uncategorised
2 Years (inclusive of internship)
This Diploma in Information Technology programme prepares students with a thorough understanding of the principles, theories, and current practices in the Computer Science & InformationTechnology field. Students will get a strong foundation, allowing them to experience the process of software development and explore the rapid development of networking technologies.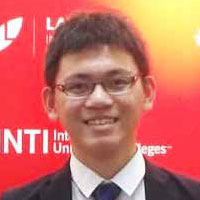 Adrian Khor Yung Kian
Diploma in Information Technology
---
With the wide range and scope of the subjects offered by INTI, I was exposed to various fields, such as networking, programming, human-computer interaction (HCI), security, artificial intelligence, computer science, software engineering (SE), and so forth. What was more exciting is that, at the end of the course, I could clearly see the dots connecting all of these aspects together!
Programme details
For more programme details, please click to expand the tabs below.
Graduates will be able to start careers or further their studies, leading to degree courses in Computer Science, Information Technology or related disciplines.

---

Highlights

75% of the curriculum emphasizes practical and hands-on training
Strong focus in technical aspects of programming and networking
Students will be prepared to pursue their degree studies in Computer Science, IT or related disciplines

---

Career Opportunities

Programmer
Junior Software Engineer
Technical Support Officer
Network Technician
Service Technician
Information System Administrator
Network Administrator

---

At the successful completion and assessment of an IBM-ICE module, students will be eligible for "Cloud Computing Foundation" badge. In addition, at the end of the programme completion student will be given an IBM-ICE transcript indicating the success of completing 5 IBM-ICE Modules within the programme.

Programme Duration

2 Years (inclusive of internship)

Accredited by

Malaysian Qualifications Agency

Financial assistance available:

Edu-Assist
Programme Structure
Level 1

Database Management
Discrete Mathematics
Fundamentals of Mathematics
Fundamentals of Networking
Introduction to HCI
Introduction to Internet Technologies
Principles of Information Technology
Programme Logic Formulation
Quantitative Methods
Structured Programming
System Analysis & Design
Writing Skills

Level 2

Object Oriented Programming (Java)
Network Design, Testing and Implementation
Interactive Multimedia
Entrepreneurship Skills
Capstone Project

MPU Subjects

Malaysian Studies 2 (Local students)/ Malay Communication 1B (International students)
Critical Thinking for Better Communication / Bahasa Kebangsaan A*
Personal Financial Planning
Community Service & Co-curriculum

*Exempted if a credit in BM has been obtained at SPM level. If credit is obtained student will take Critical Thinking for Better Communication
Internship (Compulsory)
Choose either one of the following specialisations:
1)      Information Technology:
Fundamentals of Management
E-commerce Theory and Application
Digital Image Editing
Computer Ethics
2)      Computer Science:
Fundamentals of Trustworthy Computing
Computer Organization
Introduction to Data Structure
Server Management
IBM Subjects embedded     Learn More
Year 1

Introduction to IT Infrastructure Landscape

Year 2

Introduction to Web Programing with PHP
Introduction to Cloud Computing
Introduction to Business Analytics
Introduction to Mobile Apps Development using Android (Elective)
Campuses & Intakes
INTI International University

INTI International College Subang
INTI International College Kuala Lumpur
INTI International College Penang
---
Note: International students are subject to placement guidelines. Please check with a student counsellor.
| Entry Level | Entry Requirements |
| --- | --- |
| SPM / O-Level / Equivalent | 3 credits including Mathematics |
| UEC | 3Bs including Mathematics |
English Requirements
Entry Level
Entry Requirements
IELTS
Band 4.0
CAMBRIDGE
CAE (160) / CEFR B2
CPE (180) / CEFR C1
MUET
Band 2
TOEFL
PBT (397)
IBT (30-31)
PTE
30
---
Note:
International students are subject to entry requirements. Find out more.
INTI International
University
INTI International
College Subang
INTI International
College Penang
Fees Summary
INTI International University
Local Students
Approximate Tuition Fee (RM)
35,600
INTI International University
International Students
Approximate Tuition Fee (RM)
35,235
INTI International College Subang
Local Students
Approximate Tuition Fee (RM)
35,800
INTI International College Subang
International Students
Approximate Tuition Fee (RM)
33,912
KPT:
INTI International University: KPT/JPT(R/481/4/0401)05/2019 - A10108
INTI International College Subang: KPT/JPT(R/481/4/0405)07/2019 - A10416
INTI International College Kuala Lumpur: KPT/JPT(N/482/4/0177) 09/23 - MQA/PA9580
INTI International College Penang: KPT/JPT(R/481/4/0122) 01/2022 - MQA/FA1215